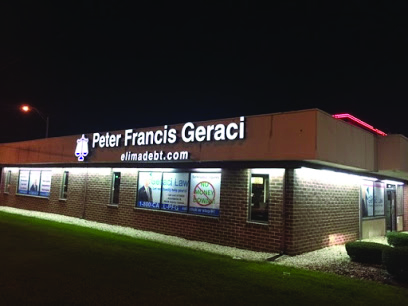 Are you looking for a bankrupty attorney in Joliet, IL? Why pay the same and not get the name? Most Joliet Bankruptcy attorneys charge the same for chapter 7 and the fees in chapter 13 are the same for just about everyone. If you're looking for a joliet bankruptcy attorney, hire the lawyer you know and trust.
If you have questions about bankruptcy, watch our video infotapes.
Facts about Peter Francis Geraci and Joliet, Illinois
Peter Francis Geraci (PFG) founded Geraci Law in 1977 as the law offices of Peter Francis Geraci. The firm has served thousands of clients in the Southwest Chicago suburbs, including Joliet Illinois. Joliet is said to be named for Louis Jolliet, the explorer and missionary, who together with Father Jacques Marquette, traveled the Des Plaines River and camped near what is now Joliet.
The City of Joliet was incorporated in 1852. Joliet, located along the Des Plaines River, became a transportation hub, not only for river traffic, but also for railroad and highway traffic due to the area's quarries, steel mills, and other manufacturing. For more information on the history of Joliet, visit the City of Joliet history page and the Joliet Chamber of Commerce. For more information about the 'real PFG,' attorney Peter Francis Geraci, visit www.peterfrancisgeraci.net.
Attorneys Kristin Schindler and Adam Suchy work at the Peter Francis Geraci Law Bankruptcy and Injury office in Crest Hill and Bolingbrook. Geraci Law is one of the most reviewed law firms in the country, and has more than 4,000 5-star reviews. It is easy to set an appointment online, 24/7, at www.infotapes.com. If you live in Joliet, make sure you come to one of the Geraci Law offices in Crest Hill or Bolingbrook. Bankruptcy Court motions in Joliet and the surrounding areas (Will, Kendall, LaSalle and Grundy counties) are heard at the Joliet City Hall. For Chapter 7 clients, the meetings of creditors take place at the Kendall County Courthouse in Yorkville.
Chapter 13 clients have their meetings of creditors at the Office of the Chapter 13 Trustee, Glenn Stearns in Lisle. Joliet is located on the historic Route 66 and is home to the Rialto Square Theatre and Chicagoland Speedway.